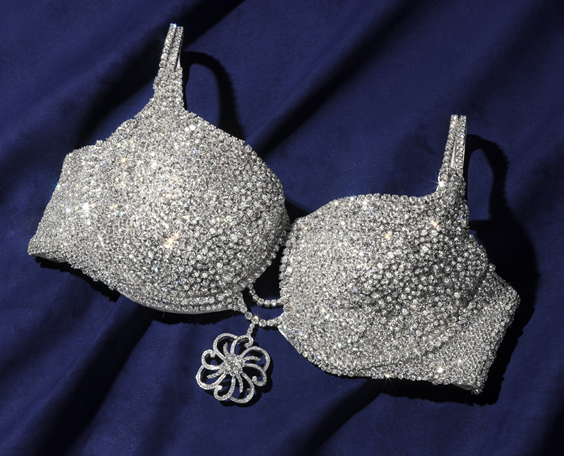 This is the Victoria Secret bra, Hearts of Fire, from 2006. If only all bra's were worth their weight in diamonds!
Now the collection 'Fleurs Du Mal ' is in production, and with my mind on learning new decoration methods and pattern cutting I find myself more and more concerned with the matter of bra cutting.
It has been my experience that every different company's have differing fits depending on their style, despite the fact that they are supposed to be the same size. When you cut a bra pattern the 'ease' that you would allow an over garment for a body's movement is removed. Why then is there so much difference between sizing?
I have decided to engage in this subject by doing an investigation into bra sizing, and for arguments sake I am going to use my own body as the instrument of testing. I actually wear a 32DD bra, but by all estimates a good portion of women wear the wrong size bra so I will make no assumptions here. What I will also admit is that my measurements are: underbust 31" and full bust 37", and I did a little research trying to find my size before going any further.
Here are the results of typing my measurements into their calculators, very interesting!
http://www.nicolajane.com/size_calculator.asp
I was calculated as a 36B
http://www.85b.org/bra_calc.php
I was calculated as a 36D
http://www.femalefirst.co.uk/catalog/sizing-chart.php
I was calculated at a 36A
http://www.calculator.net/bra-size-calculator
I am a 36DDD or F
http://www.nicolajane.com/size_calculator.asp I am calculated as as 34C
Mad eh? If these cannot decide what size I am (none of them the current bra size I am wearing) how the hell am I supposed to find correctly supporting bra's???
So, my study will be as follows: I will try on bra's of these sizes, and the current bra size I wear in as near new condition as I can and compare them. The parameters are as follows:
bra's must be underwired
bra's must be in new/ near new condition
Compare companies within themselves as well as with each other
Out of all the things that I make bra's are the most sophisticated in terms on engineering, A huge amount of work goes into those bit's of elastic we take for granted. I will probably be publishing results as I go along, so join me in my quest to find the right bra size and shape.